Reverse Beacon (Skimmer) Spots Now Available on DX Cluster
The author of DX Spider - the popular DX cluster software that runs many DX nodes around the world, including WA9PIE-2 - has updated the cluster software to add "skimmer spots" from the Reverse Beacon Network (RBN).
This is a very valuable and important addition to the DXer's toolkit within Ham Radio Deluxe.
WA9PIE estimates that 90% of the world's DX spots are now generated automatically through skimmer systems like the RBN. With this addition, something approaching 100% of the world's spots now flow through WA9PIE-2. They are available to ham swho connect to WA9PIE-2 or other DX Spider nodes running the latest version of DX Spider (v1.57 Build 320).
To illustrate what you would be missing otherwise, here is a sample of spots taken at the time of this blog post: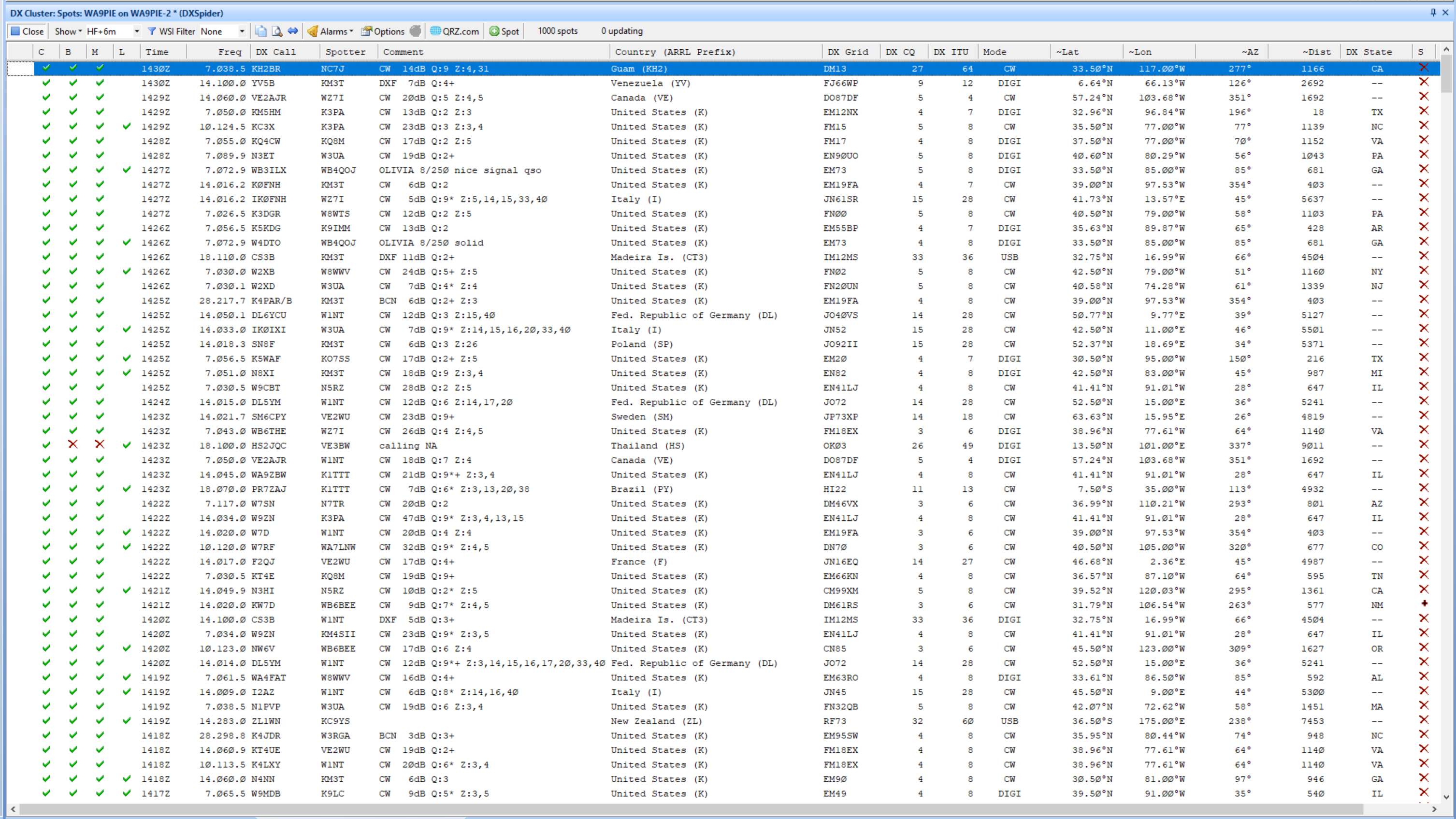 For the spots shown above, the ones that have "db" in the Comment field are sourced from the RBN. Those that do not contain "db" were manually entered by an operator.
As you can see, the difference is dramatic. If you're not enabling these, you're missing out of the vast majority of DX spots.
To enable this in HRD Logbook's DX cluster, do the following:
connect to WA9PIE-2
once connected, show the "Console" by clicking the "Show" dropdown and select "Console"; now there is a text field in the upper right of the DX Cluster pane that says, "Enter a DXCluster command then press Enter"
in that text box, type "set/skimmer" (without quotes) and press Enter; this turns on skimmer spots (to turn off skimmer spots, you would type "unset/skimmer")
finish by clicking the "Show" dropdown and go back to "Spots"
Thanks to DX Spider author Dirk Koopman, G1TLH, for this fantastic feature addition to DX nodes.